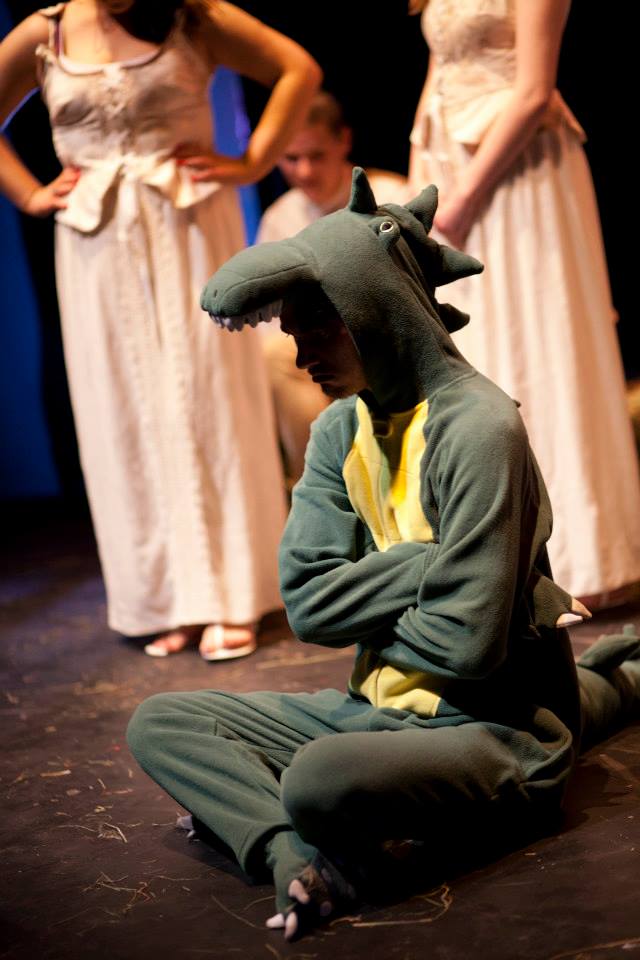 HERITAGE
DIRECTOR: EMMA ROXBURGH
WRITER: DAFYDD JAMES
LOCATION: STAGE 2, NORTHERN STAGE
DESIGNER: ANNA ROBINSON
photos taken by Mark Savage
Heritage was written for National Theatre Connections and performed by Northern Stage Young Company. As a group of theatre makers we made a thorough analysis of the script, which was a huge inspiration for the production. The story follows a group of teenagers - all with their own secrets and pasts – who think they have been chosen to close the village's Mayday ceremonies. Gradually the group discover a much darker truth: there is a suggestion that the ceremonies will end with a human sacrifice.
As well as performing, my role was also to design both set and costumes. The costume designs were handed over to the director and wardrobe team who adapted them within the resources of Northern Stage's extensive wardrobe and a minimal budget. I myself made a dinosaur costume for one of the characters using two crocodile onesies from Primark. I handed over the designs for the set to the construction and technical teams who then reconfigured them to fit in with budget and technical requirements.
My designs echoed the Nazi concentration camps and used the imagery of traditional Mayday festivities, complete with ribbons and bells. I also used back-projection to depict an idealised countryside and designed for each character, giving each elements that would help suggest their particular secrets and past. I was keen for the set to show that the children were trapped. They were being watched by two characters who it turned out were also trapped and who were shot midway through the play. I designed gauze box-like structures that they occupied on opposite sides of the stage, lit when they spoke.